Miniature Photoelectric Sensors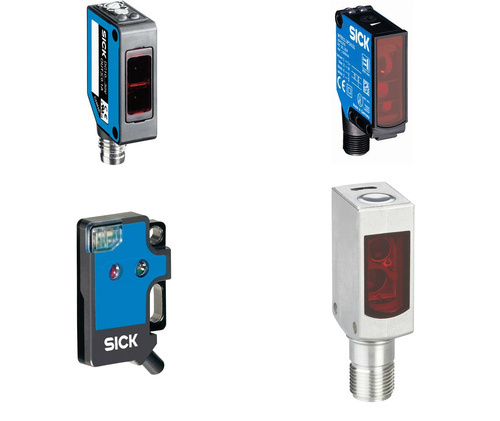 Miniature Photoelectric Sensors
Price And Quantity
Product Specifications
Photoelectric Sensors

ABS and Metal
Position Sensor

15-50 Grams (g)
Product Description
Detection, recording, positioning, counting optical sensors by SICK:

This high performance sensor is equipped with application specific integrated circuit (ASIC) microchip and supports light emitting diode (LED) technology to optimize their performance by avoiding all sorts of interference causing elements. Latest technology incorporated into its design enhances its productivity level and simplifies its mode of operation.

Photoelectric sensors are extensively utilized in automation arena across the globe.


Miniature Photoelectric Sensors:

i) W2S-2 : Incredibly small, yet powerful

This precisely developed small sensor possesses excellent acoustic attributes and it can immediately detect color shift (black/white) of object.
It adopts PinPoint 2.0 LED for improving operation and for enhancing sensing range.

.
ii) W2SG-2: Powerful clear material detection in an ultra-compact housing.

Large size of this sensor enhances its sensing distance range
Exceptional output signal receiving performance
Program setting facility for better performance

iii) W2 FLAT: One of the smallest photoelectric sensor families in the world.

Considered as one of the tiny shaped proximity sensors across the globe
Can be operated without using any additional amplifier

iv) W4 :

This high speed sensor can be installed within limited space.
Shows excellent performance while identifying small object within its covering distance


v) W4 Inbox:

Design of this sensor conforms to European Hygienic Engineering and Design Group (EHEDG) specified norms.
Accessible in Hygiene and Washdown versions

vi) W8: High-performance object detection at close range.

Housed in small cabinet that has standard M3 thread equipped mounting holes for the ease of fitting
It possesses 2 kHz (maximum) switching frequency.

vii) W100 Laser: Miniature photoelectric laser sensor provides precise detection of objects in standard applications.

Equipped with standard quality small enclosed structure that has mounting holes of M3 threading norms
Can cover large sensing distance
Mode of this sensor can be altered via its dark/light switches and its detection speed can be modified through rotary switch


viii) W100-2: Versatile miniature photoelectric sensors with large sensing ranges.

Well built structure, error free detection technique and light interference preventing mechanism
This model of photoelectric proximity sensor is available with background noise suppressing or energy absorption function.

ix) G2S: No space is too small.

Combines advanced technology, user friendliness and performance with its certified technical design
Featured with flexible parameters, this BGS photoelectric proximity sensor has maximum 120 mm sensing range.
Optical data monitoring technology of this sensor surpasses industry specified sensing range. Its housing structure deserves praise.
Error free identification of imperfectly reflected, high resolution reflection and glossy black reflection of materials